EVOLUTION
March 10-12, 2023
Five choreographers explore themes of change and transformation. Andrea Salazar's "Shaped" explores the pain and joy that push revolutionary changes in ourselves. Connolly Strombeck's "Bloom" is a neoclassical celebration of personal growth and discovery, in which each movement examines the beauty of a different type of flower. Vinnie Jones reimagines Swan Lake's white swan pas de deux with two women. Also featuring Vinnie Jones's "Il Purgatorio," Robert Burns Lowman's "Echoes," and Edgar Lepe's "A Soul's Dream."
Virtual Fall Festival
Nov 19 -Dec 5, 2022
Join Oceánica Ballet this Thanksgiving for a free virtual Fall Festival celebrating friends, family, and all those we're thankful for. Featuring the online premiere of Jessica Woodman's Till Death; and highlighting one of our current online offerings, Patience Gordon's And Here We Are.
Sleepy Hollow & Lupita
October 15-16, 2022
Oceánica Ballet presents Sleepy Hollow & Lupita, a double bill featuring the legend of the Headless Horseman adapted from Washington Irving's classical tale, and a ballet celebration of life inspired by Día de Los Muertos.
Journeys & Destinations
July 23-24, 2022
Oceánica Ballet presents Journeys & Destinations, a showcase of ballets celebrating the places life takes us, featuring works by Bay Area choreographers Edgar Lepe, Robert Burns Lowman, Isabelle Sjahsam, Connolly Strombeck, and Jessica Woodman.
Symbiosis
April 2-3, 2022
A vibrant collage of classical and contemporary ballets by Patience Gordon, Vinnie Jones, Edgar Lepe, and Robert Burns Lowman exploring themes of cohabitation, coexistence, and collaboration.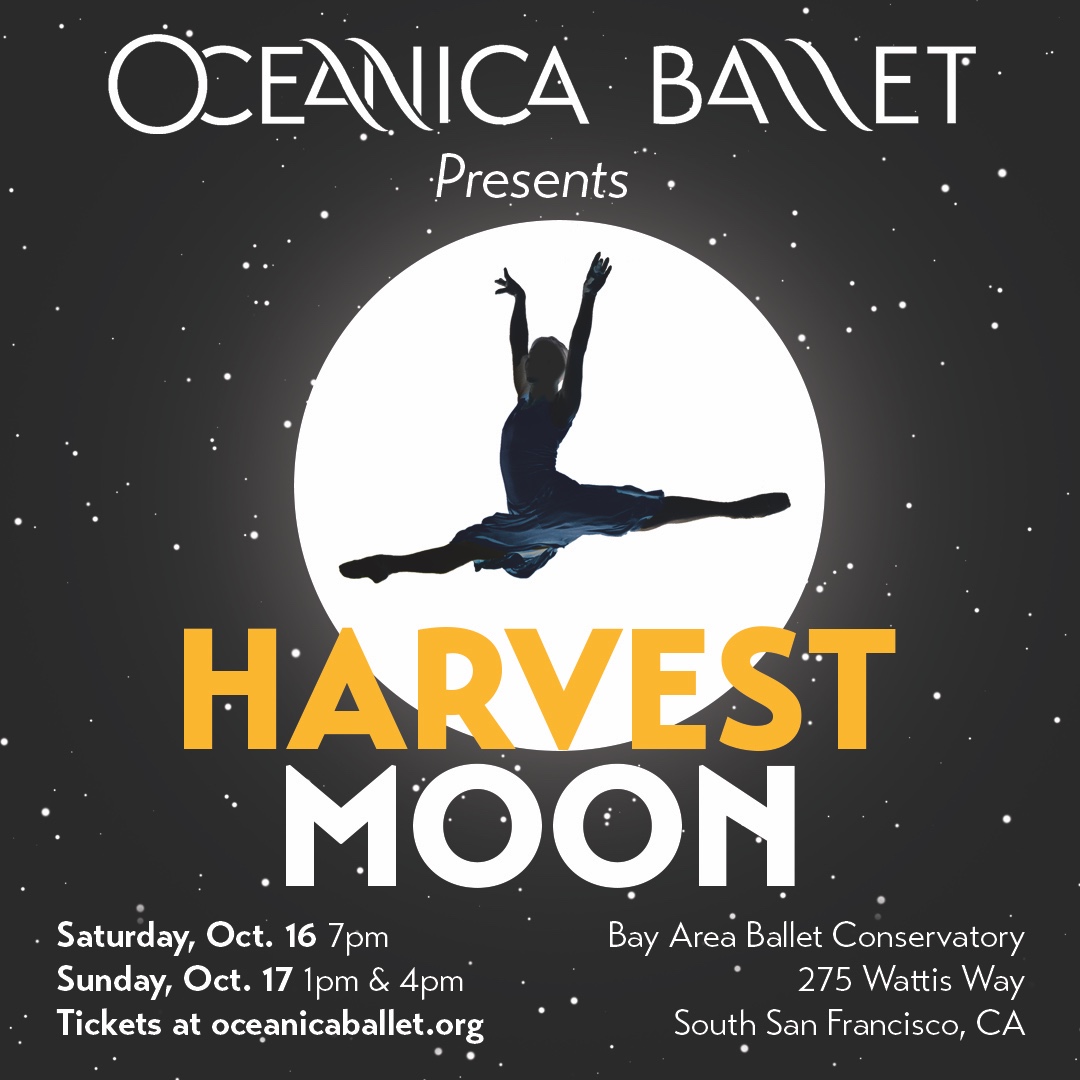 Harvest Moon
October 16-17, 2021
San Francisco Bay Area choreographers Isabelle Sjahsam, Jessica Woodman, Edgar Lepe, Robert Burns Lowman, and Connolly Strombeck present five world premiere ballets of elegance, whimsy, and contemplation.